MALO DENTAL IPGP (INTERNATIONAL PATIENT GURANATEE) FOR DENTAL IMPLANTS AND DENTAL IMPLANT RELATED PROSTHESIS.
BEING A PATIENT OF SEA SMILE HAS ITS ADVANTAGES...
As a patient of Sea Smile Dental Clinic, you now have the option to purchase an International Guarantee coverage for an extra peace of mind. This guarantee is covers all minor repairs including examination and x-rays fees and is available at a local MALO CLINIC present in 62 cities around the world.
6 CONTINENTS | 20 COUNTRIES | 62 CITIES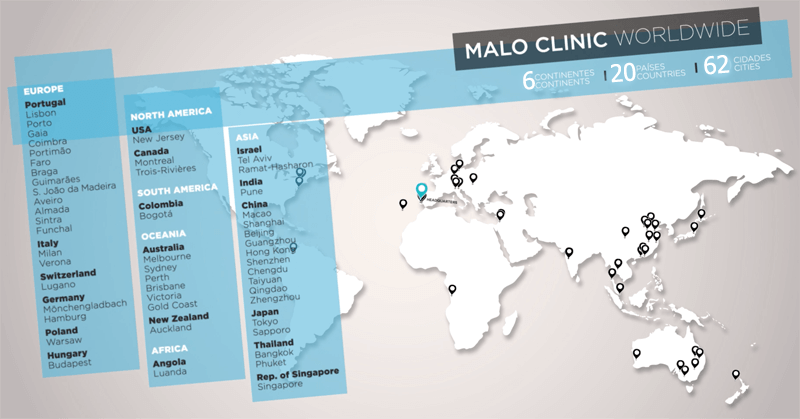 Who is Covered?
All patients who have received a dental implant or a related dental implant treatment at any of Sea Smile Dental Clinic locations in Thailand.

What dental procedures are covered under the program?
IPGP covers all minor dental corrections, related to dental implants, such as dental implant surgery, implant abutments, crowns, dental implant bridges, All-On-4™, and Zygomatic dental implants according to the following schedule
- Dental Implant Surgery- 60 months
- Dental Implant Prosthesis- 24 moths
- All On 4 Full Acrylic Prosthesis 6 months
- All On 4 Final Prosthesis 24 months
How long is the IPGP Warranty Period?
The IPGP warranty period is a parallel program to Sea Smile Dental Clinic normal warranty period.
What about other dental procedures other than dental implants?
The IPGP offered through Sea Smile Dental Clinic is specifically designed for dental implant patients. However, non-dental implant patients can benefit from knowing that they can access high quality MALO DENTAL practitioners around the globe should they face a dental problem.
What is the list of all of the locations where I can access a MALO DENTAL?
The following is a map showing the locations of MALO DENTAL around the world. As MALO DENTAL grows around the world, there will be additional cities added and that may not be included on this map. To find out the nearest MALO DENTAL to your location, contact our customer service department at +(662)1054288 or
contact@thaidentalcenter.com
How much does the IPGP Cost?
The cost of International Optional Warranty is 15,000 THB. The fee is payable at the time of your initial appointment is 15,000.00 THB and is not transferable. The cost of travel to and from a local MALO DENTAL or any other incidental charges are excluded.
3 Easy Steps to Process your IPGP®
STEP 1
If you experience any problems with your dental work, contact us immediately at:
Bangkok: contact@bangkoksmiledental.com or +(662)1054288
Phuket: dentist@thaidentalcenter.com or +(662)1054288
STEP 2
A customer service representative will search your records and determine your eligibility and will find a local authorized MALO DENTAL nearest to you. Your treatment information will then be transmitted to the local center along with your warranty information and an appointment will be coordinated within the local MALO DENTAL.
STEP 3
You will visit your designated MALO DENTAL and the local dentist will determine the nature of your problem and will present a solution to our clinic. If the problem is minor and your treatment falls under the normal warranty period, the local MALO DENTAL dentist will treat the problem. If the problem you are experiencing is of a major problem, the local dentist will contact our clinic and discuss the best solution for your treatment.
NOTE:
Your normal warranty period at our clinic as well as your commitment to regular exam and check-up will determine your eligibility for coverage. For all major corrections, you may have to return to the original MALO DENTAL location where your treatment was completed. All treatment warranties regardless of category (Major vs. Minor Correction) are paid for by the original clinic where treatment was provided. For the program to be valid, you must inform our customer service department immediately of any problems that you may be experiencing prior to contacting a local MALO DENTAL. You may contact our Customer service via email at
contact@thaidentalcenter.com