Ideal Candidates for Dental Implants
Anyone who is missing one or more of their teeth, or even all of their teeth due to injury, disease, defects, or tooth decay may be a candidate for Dental Implants. The basic rule is that if you're healthy enough to undergo a normal tooth extraction, then you are a probable candidate for the procedure. Dental Implants are suitable for any age, even for young adolescents as long as their jawbones are fully-developed. The jaws usually stop growing after the puberty stage (or between the ages of 16 to 18 years old).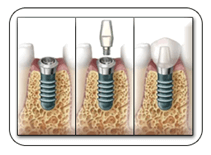 Another important consideration for a successful Dental Implant Procedure is having a sufficient amount of bone tissue available, including the quality of the said bone tissues. This can be determined using a combination of Dental X-rays and CT Scans if your bone tissue's density and volume are sufficient enough for the procedure. In cases where there is lack of quantity and quality of bones tissues available, procedures like Bone-Grafting and Tissue-Regeneration can solve these problems so that a successful implant procedure can still be implemented.
Appropriate anaesthetic and patient sedation are utilized to eliminate any pain or discomfort during the procedure, especially during the process of the implant screw insertion. However, there may be some minimal discomfort to be expected after the procedure but they can be significantly reduced or eliminated with over-the-counter pain medications.