Transportation Options to Phuket
As we know that Phuket is an island, however coming here is very straightforward. The majority of tourists arrive through Phuket International Airport. And also, you can get to Phuket by road, rail (in a roundabout way), and of course by sea if you take a boat from nearby provinces.
Traveling by AIR
Flying to Phuket is the simplest way of getting here. Phuket is served by an international airport with an increasing number of scheduled and charter flights arriving from Europe and Asia, as well as a dozen daily flights from Bangkok. There are now a number of low-cost airlines providing cheap flights to Phuket from Bangkok, Australia, and even Singapore.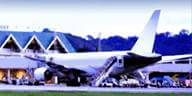 Phuket International Airport is situated at the northern end of the island about 45 mins drive from Phuket City. On arrival, you can organize taxis, car rentals or minibuses from the arrival hall. There is an Airport Information Counter located on the first floor should you need any assistance.
Many hotels provide limousines to transfer guests who have reservations to their premises. You can make a hotel reservation at the airport. There is also a limousine service that will take you anywhere you want. A trip to Patong should cost around 600 Baht, while Phuket City is about 400 Baht.
Traveling by BUS
Buses from Bangkok take approximately 14 hours. Government buses can be boarded at the Southern Bus Terminal (Sai Tai Mai) in Thonburi. Prices are very reasonable and it pays to spend a bit more for the more comfortable buses. Private tour companies also operate coaches and minibuses. Many of these can be booked at Khao Sarn rd. Not all buses are the same. A couple hundred baht more will buy you a lot more comfort. For a more comfortable journey take the VIP buses which have much bigger seats and more legroom. These have 24 seats and cost about 1,050 Baht per person.
Destination
Mode of Transport
Departure Time (Daily)
Reservation Office
Duration (Hrs.)
Fare (Baht)
Bangkok to Phuket
Non Air-conditioned Bus
10:55, 15:20
Transport Co.,Ltd Tel.211480
15
278
2nd Class Air-conditioned Bus
06:00, 08:25,
09:30, 12:35,
14:15, 16:20,
17:30, 18:15,
19:00
Transport Co.,Ltd Tel.211480
14
389 (40 Seats)
1st Class Air-conditioned Bus
17:30
Transport Co.,Ltd Tel.211480
13
486 (36 Seats)
16:00, 17:00
Transport Co.,Ltd Tel.211480
13
755 (24 Seats)
Air-conditioned Bus
15:00, 15:30,
16:00, 17:00,
18:00
Phuket Travel Service Tel.222107
Phuket Central Tour Tel. 213615
13
486 (36 Seats)
Traveling by CAR
Hiring a car in Bangkok and driving down to Phuket is a great way to explore Thailand's peninsular. The 867km journey will take 10 hours or more, but it would be a shame not to explore a few of the towns and places of interest along the way. Take Highway No. 4 from Bangkok, and the highway between Ranong and Phang Nga is quite scenic with forest-covered mountains on one side and the Andaman Sea on the other. If you are renting from a local company, make sure that full insurance cover is included. To be covered by insurance, you will need an international or Thai driving license.