About Phuket, Thailand
The name Phuket, (or as well-known as the Andaman Pearl), is derived from the Malay word bukit, meaning hill. The island was previously named Junk Ceylon on European charts, a corruption of the Malay Tanjung Salang meaning Cape Salang. Later it became known as Thalang, after the name of the main town on the island. The island did not come to be known as Phuket until quite late in its history when the administrative center was moved to a mining town in the center of the island called Phuket.

Geography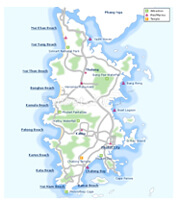 Phuket lies off the west coast of Southern Thailand in the Andaman Sea, approximately 890km from Bangkok. It is Thailand's largest island at 550sq km, roughly the same size as Singapore, and is surrounded by many smaller islands that add a further 70 sq. km to its total land area. Phuket is separated from the mainland by the Chong Pak Phra channel at its northernmost point, where a causeway connects the island to the mainland.
Phuket is quite hilly. There are many mountains around the island and there are few peaks above 500m, the highest being Mai Tao Sipsong at 529m. Many of these are covered in lush jungle. The lowlands consist of rice paddies, plantations of rubber, pineapple and coconut as well as the only significant area of rainforest remaining on the island, which is now protected as Khao Phra Thaeo Park
The most beautiful beaches such as Patong beach or Karon breach are found on the West coast, separated by rocky coves and headlands. The east coast comprises limestone shoals with only a few sandy beaches while spectacular limestone islands adorn the horizon. Coral gardens full of exotic marine life dot the emerald waters surrounding the island.
Economy
Phuket has the second highest per capita income of any province in Thailand outside of Bangkok. Tourism has dominated the island's economy for the past three decades. Each year, over 3 million visitors arrive to enjoy Phuket's natural splendor and many amenities. For much of its history, Phuket's economy was based on tin mining. Since the fall in the demand for tin in the 1980s and restrictions placed upon tin dredging to protect the coastal waters, the industry's importance has greatly declined.
Rubber became an important part of the local economy at the beginning of the twentieth century when large areas of rainforest were cut down to make way for rubber plantations, many of which can still be seen on the island. Other contributors to the local economy include: Pearl farms; Agriculture and horticulture in the form of coconuts, cashews, tapioca, cacao, rice and pineapple; prawn farming, and the processing of marine products and for this time Phuket, Thailand is fast-becoming the world's most favorite medical and dental tourism destination among millions of patients who are looking for high-quality at affordable prices.
A patient's journey - How to achieve the most amazing dental holiday. Our dental clinic offers an amazing dental tourism solution allowing you to combine a perfect vacation with top quality dental treatments. Compared to prices for equivalent treatment here, dental care services in many Australian, European and American countries are very costly. Here at Sea Smile Dental Clinic, we offer very affordable dental treatments in a perfect vacation location!
We can tailor your treatment package to your budget, offer vacation guides and even arrange travel and accommodation options if required. Our dental clinic times are flexible to match the requirements of dental tourists and we will provide appointments by request. We provide a full range of implant, cosmetic, and general dentistry services at highly competitive prices.
Smile Guarantee,
At Sea Smile Dental Clinic, we aim to provide exceptional dental care services, one patient at a time. We utilize the best materials and the latest techniques to get all of your dental works done right every single time.
Our core belief is that the word "quality" should have a meaning. Not only do we want to be your dental health care provider, we also want to become your lifetime partner for everything that concern your healthy great smile.
International Center for Advanced Dentistry, Thanks to advancements in modern dentistry, a variety of options are available to help you have a dazzling new smile more easily today than ever before. A broader range of dental possibilities exist within the field of Reconstructive, Restorative and Cosmetic Dentistry. Recent advancements in equipment, ceramic technology, materials and highly specialized training ... when coupled with well tenured experience ... has established an elite group at our International Center for Advanced Dentistry in Thailand.