Patong Beach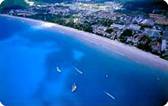 Phuket's busiest resort area, Patong Beach, has the greatest concentration of bars, restaurants, and shops on the island.
Phuket's most developed beach offers numerous leisure, sporting, shopping, and recreational options along its 3-km long crescent bay. This long beach still possesses beautiful white sand and clear water, which is now visibly clearer after the tsunami. The deck chairs and umbrellas are now back in force, providing an ideal place to relax and soak up the sun with all the conveniences you could want nearby. You'll find everything here you could need on your holiday. Windsurfing, snorkeling, sailing, swimming and sunbathing number among the many popular daytime activities. Patong is equally well known for its vibrant nightlife, among which seafood restaurants feature prominently. There are numerous shops and stalls, as well as other leisure and recreational activities. Our Sea Smile Dental Clinic is also on Patong Beach area.
Source from www.phukettourism.org
Kata Beach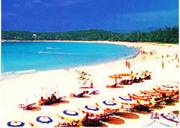 Beautiful Kata is a scenic gem, its clear water flanked by hills, and picturesque Bu island sits offshore. Kata beach retains a village feel at its northern and southern ends and is perhaps more family-oriented, its beach more peaceful than Patong. This beach is divided into Kata Yai and Kata Noi. Both beaches offer stunning scenery and a relaxed atmosphere.
Kata Yai This is the larger of the two beaches. The bay is very picturesque with Koh Pu (Pu Island) at the northern end. Half of the beach is bordered by a road, while the southern half has a few resorts right on the beach. Club Med occupies a large portion of the land behind the beach road towards the northern end of the beach, keeping that end of the beach fairly quiet. Due to its fairly small size, Kata has a cozy feel about it and is great for families. There are quite a few shops, restaurants and bars around Kata Centre and between Kata Yai and Kata Noi. Kata is perhaps the best compromise between the hectic pace of Patong and some of the quieter beaches on Phuket.
Kata Noi only has a few hotels and is dominated by the Kata Thani Hotel. The beach is lovely and there has only been a little development.
Source from www.phukettourism.org
Karon Beach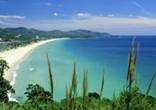 Karon beach is a long stretch of powdery white sand just south of Patong. The beach is very long so it never feels overcrowded.
The second largest of Phuket's tourist beaches. Large resort complexes line the road behind of the shoreline, but the long, broad beach itself has no development. The sand is very white, and squeaks audibly when walked upon. The southern point has a fine coral reef stretching toward Kata and Bu Island. Restaurants, bars, tour companies and other non-hotel businesses are at the north end, near the traffic circle, and at the south end, on the little road connecting the back road with the beach road. The narrow road between Kata and Karon has a number of small businesses as well as the Dino Park Mini Golf facility. Karon is the most up-scale of Phuket's beaches. There is a regular daytime bus service to and from Phuket Town.
The southern point has a coral reef that stretches towards Kata and Bu Island. There are not as many water sports activities on Karon beach as in Patong or Kata. During the rainy season Karon can be good for surfing but dangerous for swimming due to the large waves and strong rip currents.
Source from www.phukettourism.org
Kamala Beach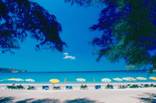 A beautiful and serene beach, Kamala is perfect for those looking for a relaxed and laid back beach. The beach is a favored spot for witnessing sunsets.
Kamala is about 10 minutes drive north from Patong and a great place for those wanting to get away from the hustle and bustle. The southern end of this beautiful bay has a coral reef just a few metres offshore. Kamala is not over-developed yet, although there are some guesthouses and a few resorts. The northern end of Kamala Beach is suitable for swimming.
There is a good selection of Thai restaurants, noodle shops and a few western restaurants in the area. The local people are mostly ethnic Malay and there are some good local restaurants serving tasty Muslim food.
Source from www.phukettourism.org
Chalong Beach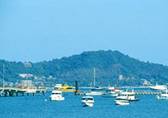 Chalong is a large bay with a pier that is the main departure point for diving and fishing trips from Phuket. This beach has several restaurants selling some of Phuket's best seafood.
The pier is a good place to charter boats for fishing, diving or snorkeling trips to nearby islands. Chalong Bay does not have a great beach for swimming due to the muddy bottom and large number of boats moored here. Just inland is Chalong traffic circle. This area is popular among expats living in Phuket and there are some good restaurants and bars nearby.
Source from www.phukettourism.org
Nai Harn Beach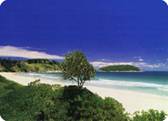 A picturesque and quiet beach near the southern tip of the island. South of Kata Noi and north of Promthep Cape, Naiharn is not Phuket's longest beach, but it borders the most gorgeous lagoon on the island. The middle of the beach is dominated by the Samnak Song Nai Han monastery, which has obstructed excessive development and is the reason that the beach is generally less crowded than other spots on the southern part of the island.
At its northern is Le Meridien Phuket Yacht Club which has a few bars and restaurants just before it, but generally the area is quiet.
A wide variety of water sports can be enjoyed. One can walk to nearby Promthep Cape to observe sunsets, which are often fiery and spectacular. There aren't many places to stay here but the beach is easy to get to from Kata and Karon. Behind the beach is a lagoon where there are some upmarket housing developments and a few good bars and restaurants.
Source from www.phukettourism.org
Surin Beach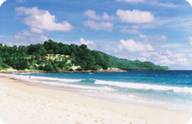 Evergreen trees line this small, curving bay, beneath the foothills north of Kamala.
Surin beach is home to Phuket's first golf course, a nine-hole course laid out more than sixty years ago during the reign of King Rama VII. It is now largely in disuse except as a park.
Although there are now a few hotels springing up Surin is still quiet and peaceful. Surin is quite popular with locals who frequent the seafood stalls and restaurants that line the beach under the shade of the casuarina trees, and can get a little busy during the weekends during the high season. Inland from the beach is Surin Village, a predominantly muslim area of Phuket. There is a small market here and some restaurants where you can sample delicious Masaman curry.
Source from www.phukettourism.org
Rawai Beach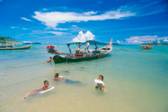 Rawai Beach is popular with locals who come to enjoy seafood and the lovely view of the islands from the shore.
In the days before Phuket became a popular holiday destination, Rawai Beach was where locals from Phuket Town would come to enjoy the seaside. These days, the beach itself is not that nice with many small boats anchored off the shore, although it is safe to swim all year round due to its position facing Phang Nga Bay.
The palm-fringed beach is best known for 'sea gypsies,' a formerly nomadic fishing minority believed to be of Melanesian descent. At the eastern end of the beach is a sea-gypsy village which has a small fish market. Here you can also buy local handicrafts and assorted Thai snacks. The nearby viewpoint at Laem Phrom Thep, the southernmost tip of the island, is particularly popular at sunset.
Source from www.phukettourism.org
Phuket Old Town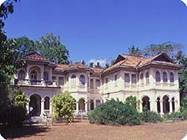 The beginning of the tin boom in the 19th century led to construction of many fine mansions and shops, that are still well preserved. The architectural style, typical of the region, is described as Sino-Portuguese and has a strongly Mediterranean chracter. Shops present a very narrow face onto the street but stretch back a long way. Many, especially on Dibuk Road, have old wooden doors with Chinese fretwork carving.
Other streets, forming what might be called "Old Phuket," with similar structures are Phangnga, Yaowarat, Thalang, and Krabi, and a walking tour of the area is easy and delightful. Some other old European-style buildings of note are the Provincial Hall (Sala Klang), the Phuket Courthouse (San Changwat), and Nakhon Luang Thai Bank.
Source from www.phukettourism.org