Root Canal Treatment is the field of dentistry concerned with the prevention, diagnosis and treatment of disorders of the dental pulp/nerve. Years ago, teeth with diseased or injured pulps were extracted. Today, root canal treatment gives dentists/endodontists a safe and effective means of saving your teeth.
Inside each tooth is the pulp which provides nutrients and nerves to the tooth, it runs like a thread down through the root. When the pulp is diseased or injured, the pulp tissue dies. If you don't remove it, your tooth gets infected and you could lose it. A root canal is a treatment used to repair and save a tooth that is badly decayed or becomes infected. Root canal procedures are performed when the nerve of the tooth becomes infected or the pulp becomes damaged. During a root canal procedure, the nerve and pulp is removed and the inside of the tooth is cleaned and sealed. Root canal procedures have the reputation of being painful. Actually, most people report that the procedure itself is no more painful than having a filling placed. The discomfort experienced in the period leading up to a seeking of dental care is truly the painful period of time, not the root canal procedure itself. After the dentist removes the pulp, the root canal is cleaned and sealed off to protect it. Then our reconstructive dentist places a crown over the tooth to help make it stronger.
Most of the time, a root canal is a relatively simple procedure with little or no discomfort involving one to three visits. Best of all, it can save your tooth and your smile!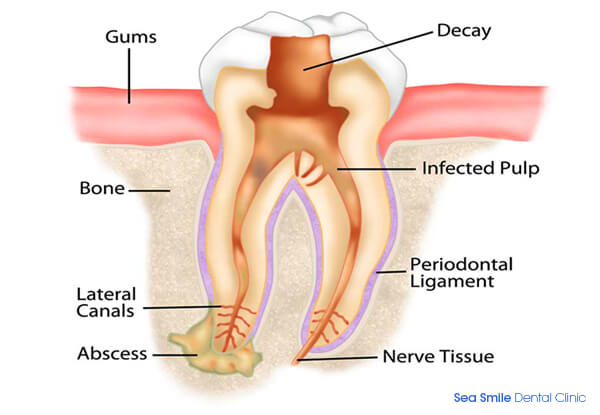 Advantages/Disadvantages of Root Canal Treatment
ADVANTAGES:
Any infection will only get worse with time, if left untreated.
The greatest advantage is that the tooth will not need to be extracted in the future.
DISADVANTAGES:
On a rare occasion, an infected tissue is pushed through the ends of the root infecting the gum. This can be treated easily, but there will be some pain until the infection is cleared up.
Canals are irregularly shaped, and if the canal is not accurately measured then it won't be cleaned or filled properly. This will cause the pulp to become infected again and a second procedure will be necessary.