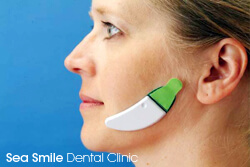 The last two indications (clicking sounds, lock-jaw) are usually associated with a TMJ (temporo-mandibular joint) Disorder, a cluster of neuromuscular and musculoskeletal conditions. Dentists and oral surgeons usually determine active bruxism with the use of a special diagnostic mouth-guard called a "splint" or the more advanced BiteStrip which can accurately measure bruxism frequencies and other factors associated with the condition.
As the occurrence of bruxism is as spontaneous to anyone, the condition can still permit someone who has it. Dentists can modify the final prosthetic, specifically the bite-design, or utilize a special shock-absorbing and repairable dental crown (usually made of ceramic composites). To effectively protect your dental implants, the dentist will prescribe the use of a protective mouth-guard to be worn during night time or when you sleep, while habit and behavioural alterations will be used to effectively manage the condition during day time.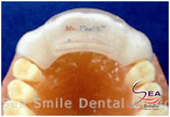 The type of mouth-guard will be prescribed accordingly, which generally depends on the number of dental implants, their location, and severity of the condition. Soft-type Splints are not as sturdy as the Hard-type Splints which are mainly constructed out of acrylic materials. MCIs (MyoHealth Clenching Inhibitors) are "mini" splints which are specifically designed for Posterior Dental Implants.
Dental mouth-guards or splints are an absolute necessity for bruxism, especially while sleeping when the stress loads of the condition is at its peak and your dental implants are at high-risk. Needless to say, your Dental Implants are valuable investments, thus warranting your utmost care and exceptional protection.