Treatment Options for Missing Tooth/Teeth
Replacing your missing tooth or set of teeth is a serious matter. At Sea Smile Dental Clinic, our goal is to prevent you from encountering such consequences by providing various options to replace your missing tooth/teeth: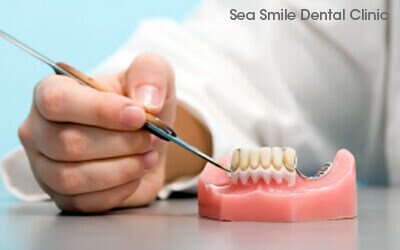 Dentures are removable dental fixtures for replacing missing tooth/teeth and the surrounding tissues to restore your smile and dental health. They come in two types – Partial and Complete Dentures, and they are made out of a combination of acrylic plastic for the gum-like base where the artificial teeth are attached and supported by cobalt-chromium metallic framework. Dentures are removable so they can be taken in and out of your mouth for cleaning purposes such as brushing or flossing, as well as permitting you from wearing them while sleeping.
Dentures, either partial or complete, conventionally or immediately placed, can be beneficial to both your appearance and oral health. When you lose most or all of your teeth, you facial muscles will tend to sag and make you look older. Dentures can prevent such effects as they can bring back the normal features and natural facial profile. And most importantly, they can make it easier for you to eat or chew food properly and speak better than you could without teeth, in which case is often taken for granted by most people.