FAQs - Frequently Asked Questions
What are Dental Implants?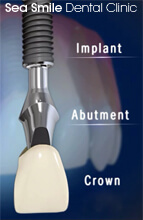 In general, they are dental fixtures used to replace missing tooth/teeth. A Dental Implant consists of three main components: A small titanium screw-like unit (the implant itself), an abutment, and a dental crown (or dental bridge). Each of the components has its own important function. The implant itself serves as the replacement for the missing tooth roots to prevent further bone loss and more importantly, being made out of titanium, it eventually integrates with your jawbone (osseointegration) thus serving as the basic foundation for the whole dental implant structure. The abutment serves as a connector between the implant screw and the dental crown, which actually serves as your visible "new tooth."
Dental Implant procedures can usually be completed in two stages after the necessary initial assessment and treatment planning – The Surgical Stage and the Restorative Stage.
The Surgical Stage involves the implant screw placement directly into your jawbone which would allow a bone-integration phase. This bone-integration process is also known as osseointegration, and usually takes place between 3 to 6 months, depending on your body's healing factors.
The Restorative Stage is where the final prosthetic or dental crown is properly attached to your healed implant unit using the abutment. Your dentist will utilize certain techniques to make sure that proper fitting, occlusion (bite), and great aesthetics is achieved, as well as providing you with appropriate after-care and maintenance instructions for your newly replaced tooth/teeth.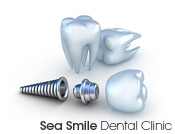 Basically, anyone who is missing one or more of their teeth due to injury, disease, or decay may be a candidate for Dental Implants. In case where you have a number of teeth missing, Dental Implants can be used in conjunction with dental crowns, dental bridges, or even full-dentures to replace them. The rule of thumb is, if you're healthy enough to have a tooth extraction procedure, you're probably healthy enough for a Dental Implant Procedure.