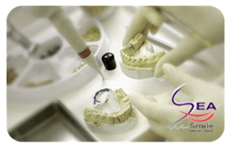 We take pride in being able to provide you with top-quality products and services, all made possible with the advantage of housing a professional dental laboratory. We continuously suit our lab with state-of-the-art equipment and consistently educate our laboratory technicians with contemporary skills to be able to stay on the cutting-edge of the latest technological advancement in the field of dentistry. Sea Smile Dental Clinic is among the few and privileged clinics in Thailand, which houses a professional laboratory.
Our modern denture processing units and sophisticated porcelain ovens are able to generate great aesthetics and strength for all ceramic or PFM prosthetics, on top of our well-experienced technicians who meticulously checks each and every fabricated product to ensure that exact specifications are met. Our in-house dental lab is driven by technology, wherein we utilize the biggest leap of advancement with which the field of dental laboratory technology has achieved in the past decade – Computer Aided Design and Manufacturing (CAD/CAM). We embrace such dental advancements as we incessantly aspire to provide you with nothing but the best.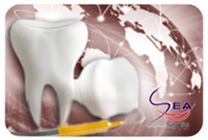 Our in-house lab not only fabricates for our own dental crowns/bridges, dentures, implant prosthetics, night-guards, and bleaching trays, we also produce and ship dental devices and prosthetic masterpieces on a global scale. Dental clinics all over the world, including USA, Canada, Australia, New Zealand, Hong Kong, Japan, and Singapore, are among our valued consumers, so it's not unusual that we may even be your local dentist's prosthetic provider!
Exceptional precision and greater aesthetics in a minimal amount of time is what we are proud to offer with our in-house dental laboratory, only at Sea Smile Dental Clinic and Dental Lab.