THE BRILLIANT INTEGRATION
Thailand's very own Sea Smile and Dr Paulo Malo exclusive partnership with the full support of Nobel Biocare – the world's number 1 dental implant company, is the most brilliant integration of such significant names in the field of dentistry with one goal in mind: To define the true meaning of an International Dental Center in Thailand. Hand in hand they are committed to set the highest international standards of dental care because they all share the same core objective, which is to give quality of life back to patients by providing them with the most innovative dentistry techniques and products.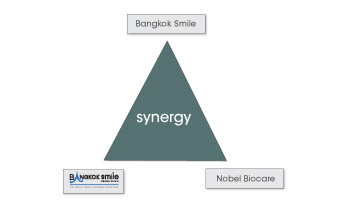 MALO Clinic is the largest international dental center in the world that was founded by Dr. Paulo Malo in 1995. With its revolutionary techniques it has gained vast popularity at an astounding rate within Europe, USA, Canada, and Australia, as well as the rest of the world. Patients from all over the world and patients of other dentists started to get their dental treatment done at this exclusive global dental network such as Sea Smile Dental Clinic. MALO DENTAL Dental Care is notoriously known for its innovative techniques such as the All-on-4™, the new Zygoma Implant, the Extra-Maxilla Surgery, the NobelSpeedy Implant and the fixed prosthesis Bridge.
The exclusive partnership between Sea Smile and Dr Paulo Malo was made public with a prestigious Signing Ceremony and Soft-opening Event held at the BSDG Main Branch inside the MEDASIA Healthcare Complex last August 18, 2016.