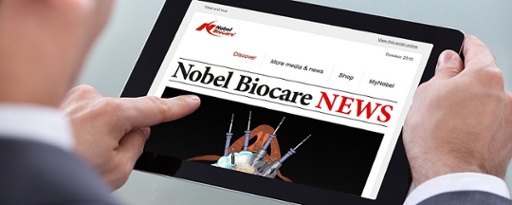 Here are the latest buzz on Nobel Biocare products, solutions, and events, as well as insights and commentaries on the world of implant dentistry.
---
March 21, 2017 — Nobel Biocare enhances immediate solutions for immediate patient needs
Cologne, Germany. Nobel Biocare will display a powerful combination of next-level efficiency and quality at the International Dental Show (IDS) 2017 in Cologne, Germany (March 21–25). Visitors to the Nobel Biocare booth at IDS will discover new breakthrough innovations for immediate implant placement and enhanced workflows developed to reduce time-to-teeth for dental implant patients. Each solution benefits from Nobel Biocare's long-standing experience in research, development and design.
Nobel Biocare continues to lead the industry in innovation for the edentulous and soon-to-be edentulous patient. At the forefront is the next generation of the original and proven All-on-4™ treatment concept. In Cologne, Nobel Biocare will present the components that keep the All-on-4™ treatment at the forefront of edentulous treatment by significantly enhancing workflow efficiency. These include the new Multi-unit Abutment Plus, which offers significant time savings thanks to a snap-fit function that removes the need for screws during the denture try-in process.
In addition, Nobel Biocare will preview the Trefoil concept at IDS. Trefoil makes a fixed, final, full-arch restoration possible on the day of surgery thanks to a revolutionary prefabricated, passively fitting framework on three implants and a cost effective restorative workflow. A prospective clinical multi-center study with the Trefoil concept is currently underway, and feedback from participating clinicians has been extremely positive.
---
April 6, 2017 — Dr. Steven Eckert wins Nobel Biocare Brånemark Osseointegration Award
The Academy of Osseointegration (AO) has awarded the 2017 Nobel Biocare Brånemark Osseointegration Award to Dr. Steven Eckert.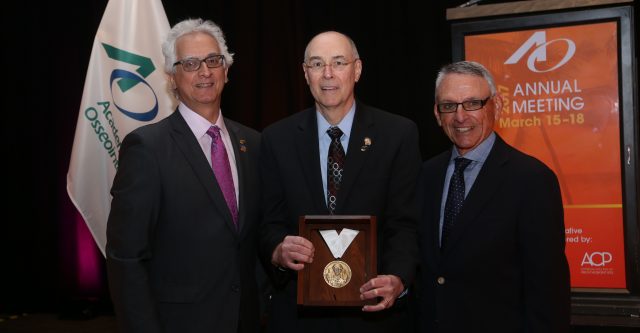 The accolade was presented to Dr. Eckert, from Minneapolis, Minnesota, US, during the Opening Symposium of Academy of Osseointegration's (AO) 2017 Annual Meeting, held last month.
The annual award is given by OF, the philanthropic arm of AO. It recognizes individuals whose impact on, and leadership in, implant dentistry is exemplary in any or all of the Foundation's mission categories: research, education, and charitable causes.
A former AO president, in 2006 Dr. Eckert became the second editor-in-chief of the International Journal of Oral and Maxillofacial Implants (IJOMI), a position he still holds today.