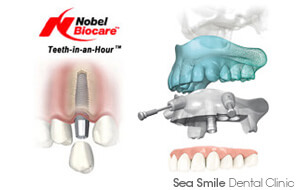 Time is of great essence to everyone. And at Sea Smile Dental Clinic, not only do we value your precious time, but we also do our best to incorporate ourselves to the latest technological breakthroughs with regards to implant dentistry, thus we are proud to offer the Teeth-in-an-Hour™ Treatment Concept by Nobel Biocare - the world-leader in implant dentistry innovation.
This treatment was conceptualized by combining the NobelGuide™ and Immediate Function™ Implant systems. These unique systems provide a lot of advantages over traditional dental implant treatments. The concept significantly reduces the chair-time and number of visits to our clinic, and best of all, there is no recovery period required, meaning to say you can immediately go back to your active lifestyle right after the treatment.
The Teeth-in-an-Hour™ Concept basically eliminates the time-consuming "freehand" surgical methods produced by old-fashioned implant treatments. This is made possible using a computerized analysis of your digitized imagery (CAD/CAM) and bio-engineering science during your initial visit. This means that everything is done in precision during the Preparation Stage (1 to 2 visits to our clinic) prior to your surgery day. With a guided-surgical procedure and a prosthetic precisely prepared, the whole Surgical & Restorative Stage can be done within an hour, as the concept's name obviously suggests.