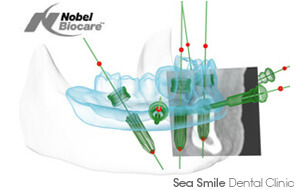 Nobel Biocare, the world-leader in implant dentistry innovation, has come up with an all-in-one treatment concept for a wide variety of indication with digital precision – NobelGuide™. Both we, at Sea Smile Dental Clinic and you, our valuable patient, can benefit from the advantages of using this sophisticated concept for a completely-guided diagnostic & evaluation, planning, surgical, and restorative procedure throughout your dental implant treatment.
Utilizing the precision of CAD/CAM (computer-aided designing/computer-aided manufacturing), NobelGuide™ enables us to integrate a conventional tooth-setup diagnostic with a full 3-D viewing of your x-ray anatomy as the fundamental point for a comprehensive evaluation and a precise definition of the implant unit's position in your jaws. We can accurately plan everything with the NobelGuide™ software, from the guided-surgical placement of the implants to the careful fitting of the dental crown/bridge, depending on your prosthetic requirements and quality of your jawbone structure.
The decision making process is notably simplified as the NobelGuide™ software's analytical comprehension can come up not only with the ideal implant position/s, but furthermore, with the optimal biomechanical, functional, and aesthetic requirements as well. Upon the conclusion of the guided-planning, the NobelGuide™ System will successively fabricate a corresponding surgical template, custom-built accordingly in contrast with the location, type, and size of the implant units and your preferred prosthetic. The surgical template will enable your oral surgeon to perform a safe and predictable implant unit placement procedure for whatever indication – replacing a single tooth, several teeth, or an entire jaw/mouth.